The Vikings have virtually no salary-cap space at the moment, with Ben Goessling of the Star Tribune reporting that the club is expected to have just $5.24M in room when free agency opens on Wednesday. Goessling takes a position-by-position look at some of the difficult decisions Minnesota will have to make in order to free up some cash, and one of the most notable names involved in his piece is tight end Kyle Rudolph.
Per Goessling, it is believed that the Vikings are in talks with Rudolph about taking a pay cut in 2019, the final year of his current contract. Rudolph is due a $7.275M salary, and roster/workout bonuses would increase the club's cash outlay and corresponding cap hit to $7.625M. The Vikings could shed that entire figure from their books by cutting Rudolph and would absorb no dead money by doing so, but there is not much by way of proven talent behind Rudolph on the depth chart.
Rudolph has started all 16 regular-season games for the Vikings in each of the past four seasons, but he will turn 30 in November and had offseason ankle surgery last year. He earned Pro Bowl nods in 2012 and 2017, and he has been a solid contributor and red-zone threat throughout his career, but his raw statistics have never been particularly eye-popping. (Though, he did have 840 receiving yards in 2016, from 132 targets.) Nonetheless, his overall body of work and his recent run of durability suggest he could at least match his 2019 pay if he were to hit the open market — especially since blocking tight end Nick Boyle just earned a three-year pact paying him $6M per year from the Ravens — so he may choose to refuse a pay cut. Either way, the Vikings will be in the market for a pass-catching tight end, either in free agency or the draft.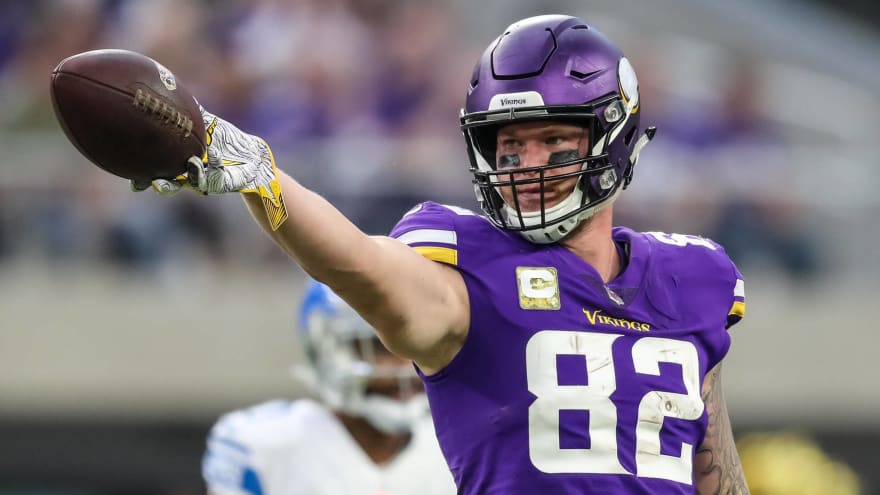 Goessling's entire piece is worth a read, as it includes his thoughts on the Minnesota futures of other notables like Everson Griffen, Mike Remmers and Laquon Treadwell.
When Super Bowl festivities spread across the Twin Cities 14 months ago, Kyle Rudolph was too salty to enjoy many of them. His Vikings had come within a game of being the first team to play a Super Bowl in its own stadium, and the tight end wanted little to do with many of the events surrounding the big game.
A year later, with U.S. Bank Stadium on the big stage again, Rudolph's weekend is full: He joined Vikings teammates Everson Griffen and Trae Waynes as judges for a high school dunk contest at East Ridge High School on Friday, hours after assisting Connecticut coach Jim Calhoun in an American Cancer Society charity game.
On Sunday, when he plays in a celebrity basketball game at St. Thomas, the 6-6 Rudolph has no plans to post up — "I'm just going to run up and down and shoot as many threes as I possibly can," he said. And he'll be one of the Vikings at the stadium Saturday for the national semifinals, when Michigan State tries to advance to the national championship game a day after hearing a speech from former Spartan Kirk Cousins.
"There's a basketball player still deep inside of me," said Rudolph, a three-time conference player of the year at Elder High School in Cincinnati. "To have the Final Four in Minneapolis, and to have these festivities that come along with it, is a lot of fun."
Rudolph and his Vikings teammates were only several of the notable figures caught up in hoops hysteria as the Final Four's footprint continued to spread across the Twin Cities on Friday. While fans were welcomed inside U.S. Bank Stadium for open practices and a college all-star game Friday afternoon, made-for-TV events such as the one at East Ridge and the 3-on-3 tournament that opened Friday in the Mall of America provided opportunities for players outside the Final Four spotlight to showcase their talents.
Gophers forward Jordan Murphy — fresh off a double-double in the College Senior All-Star Game on Friday afternoon — was part of the four-player Big Ten team competing for a $100,000 prize at the 3-on-3 event, where fans ringed four levels around the Mall of America's east rotunda to watch players from 32 conferences who'd recently concluded their college careers play 10-­minute games to 21. Former Gopher Nate Mason was part of the Big Ten team that won the first edition of the tournament a year ago.
At East Ridge, students banged thundersticks and packed the gymnasium as part of a de facto school assembly, where the Raptors cheerleaders and dance team performed and the school's robotics team shot T-shirts out of a cannon it had designed. East Ridge guard Chloe Stoehr competed in the girls' three-point competition, while Rochester John Marshall's Matthew Hurt was knocked out in the semifinals of the boys' competition and DeLaSalle's Tyrell Terry reached the finals.
Raptors forward Courtney Brown Jr. took part in the slam dunk competition, where Arizona recruit Terry Armstrong won the title after being the only player to complete a dunk in the final round.
"Seeing these kids and some of their athleticism is pretty incredible," said Rudolph, who dunked for the first time when he was in eighth grade. "Not all of them get dunks in, but the explosion off the ground and the difficulty of the dunk — if you get it down, you're getting at least an eight [out of 10]."
On Saturday, when the stage shifts to U.S. Bank Stadium, Rudolph will have no hesitation about soaking up the scene.
"I can sit back and enjoy this Final Four, and get to take in the festivities, unlike the Super Bowl," he said. "I was so angry we were only a game away, and that was something we should have been playing in. This is just fun to sit back and enjoy from a fan's perspective."