The biggest reason the 2018 Vikings missed the playoffs, according to many fans and pundits, was Kirk Cousins' alleged inability to play under pressure.
Where Case Keenum in 2017 overcame bad pass protection by sensing and adjusting to pressure, Kirk Cousins in 2018 lacked the pocket presence to win games in spite of poor blocking. Or so the narrative goes.
But that narrative is wrong. Kirk Cousins in 2018 had an above-average PFF grade under pressure and had the seventh-best passer rating under pressure. And while those stats are not very predictive of how Cousins will play in 2019, they do tell us that the 2018 Vikings weren't losing games because of Cousins' pocket presence, because Cousins was at least statistically above average under pressure.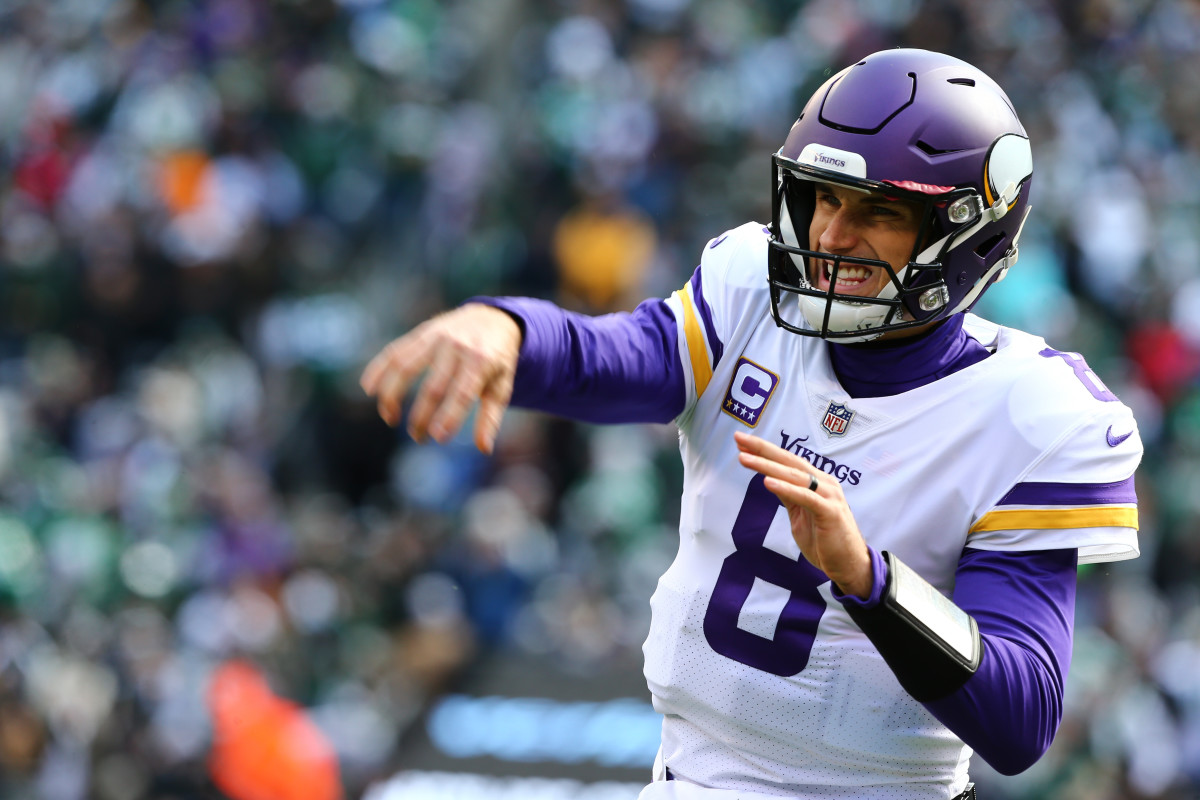 But beyond the stat sheet, Kirk Cousins' pocket presence showed remarkable improvement in 2018. I re-watched every Kirk Cousins drop back in 2018 and have put together over 100 plays from last year to show just how:
This touchdown throw came with the Vikings down eight points, with 30 seconds left in the game, and with all 300 pounds of Mike Daniels torpedoing into Cousins' frame.
Cousins didn't flinch. Under heavy pressure in every sense of the word, Cousins delivered the game-saving touchdown.
That unflinching toughness was on display throughout the year, but especially in the Eagles game, where even the cameraman was not sure Cousins was getting these throws off:
The Bears blitz on this third down play, and both edge rushers beat their blockers. Cousins immediately feels the pressure, steps up in the pocket and hits Diggs in stride for 11 yards and a big first down.
It's a subtle thing, but it makes a world of difference for edge rushers and offensive tackles. And it's a big part of what makes Tom Brady or Drew Brees so deadly from the pocket.
It's also an area Cousins has had to improve on – you can see from Cousins' film in Washington how often he failed to climb the pocket and left himself a sitting duck for sacks and strip sacks.
Cousins reads the full field here in just three seconds, but unfortunately for him, the Patriots have everyone locked down in coverage. While working through his progressions, Cousins sets and resets his feet to be ready to quickly fire the ball to the next read. Sensing the penetrating DT, Cousins sidesteps left without missing a beat, and then feeling the edge pressure, resets and delivers for the checkdown right before getting hit.
Yes, the end result is just a short completion, but it's that footwork and composure that makes the best throws under pressure possible.
And it wasn't just on the checkdowns – Cousins' demonstrated great footwork and the ability to reset his feet or subtly slide in the pocket throughout 2018:
Still, while Cousins may have gotten better at reacting to pressure, his old habits are sometimes dying hard.
Speaking of old habits, in 2017, Kirk Cousins threw nine interceptions when under pressure, which was tied for most in the NFL. In 2018, that number shrunk down to five, (and two of those picks weren't his fault – one came after a Treadwell drop; the other was the Saints' pick-six where Diggs stopped his route right as Cousins threw to him).
But despite the improvement, pressure still clouded Cousins' decision-making at times:
Last year, after re-watching all of Kirk Cousins' Washington drop backs, I wrote that "Cousins' worst attribute is his pocket presence," that he "doesn't have a good feel for the impending pass rush," that "[h]is decision-making completely falls apart once he starts to feel pressure" and that his "throwing mechanics and footwork also go completely out the window" under pressure.
That might have been true in the past, but Cousins showed substantial improvement in 2018: he responded more quickly to pressure, climbed the pocket fairly regularly, slid away from or eluded would-be sack attempts, and extended plays beyond the pocket every game.
Obviously, he's no Tom Brady. He still sometimes got caught standing like a statue at the top of his drop. He had his fair share of bad throws and bad decisions under pressure. And too often he lacked the downfield aggressiveness to keep the Vikings ahead of the chains.
But Cousins' pocket presence was not the reason the Vikings missed the playoffs last year. The 2018 Vikings had far too many flaws that were far too complicated to pin the blame on Cousins' pocket presence – especially because Cousins' pocket presence last year was actually surprisingly solid.
The Minnesota Vikings have reportedly agreed to terms with quarterback Sean Mannion to act as the team's backup quarterback to Kirk Cousins.
One of the biggest question marks on the roster of the Minnesota Vikings heading into the 2019 NFL season was concerning who the franchise would have as the backup quarterback to Kirk Cousins.
That question was answered on Sunday, Apr. 7 when reports emerged that the team would be signing free agent quarterback Sean Mannion to perform that duty, replacing the exiting Trevor Siemian.
Of course, Kirk Cousins hasn't missed a game in the last four seasons, playing in all 16 regular season contests since the start of his 2015 NFL season. He is one of the more durable and dependable starting quarterbacks in the league, so there is a chance the backup may never step on the field.
Star Tribune beat writer Ben Goessling confirms that the deal is for one season, but has not revealed the financial details on Twitter.