Another one of the Oklahoma Sooners' vaunted offensive lineman is up for grabs this April in the 2019 NFL Draft. All but one of Bill Bedenbaugh's starting hogmollies are expected to be drafted, and that includes 2018 Joe Moore Award winner Dru Samia. One could say that Samia's stock has been going up since he was a freshman, winning out during his senior year by earning second-team All-American from the AP in addition to first-team All-Big 12 honors. Samia originally started his career at right tackle after replacing a less than stellar Josiah St. John after the Red River Rivalry, but he later moved inside to right guard where his talents were better served.
Just like several of the offensive linemen at Oklahoma, the results for draft projections are not entirely consistent. Scouts gave Samia a rating of 5.60, labeling him at a chance to become an NFL starter with the right team and scheme/blocking philosophy. Walter Football has rated Samia as the No. 18 offensive lineman as well as CBS Sports rated Samia has the 27th-best OL. That being said, it should be no surprise if Samia is taken between rounds 4-7, but it may not accurately reflect each evaluation placed on the Joe Moore Award Winners for 2018. If you'd like to see more on evaluation on Dru Samia from NFL Scouts,
Vikings fans wanted offensive line help in free agency but did not get the big spending like some of them had hoped for. Instead, they settled on Kline, who they brought in as the probable starter at right guard to fill another spot up front in the trenches. They really just need Kline to be serviceable and a calming presence at the right guard spot as opposed to the be all, end all solution. His job feels guaranteed at this point, but he could get pushed by rookie fourth-round pick Dru Samia if should he somehow lose out on that job, it means that Samia was just that much better. Kline feels like an alright starter and a known commodity but has to be more of a Joe Berger presence in his spot as opposed to what Mike Remmers was there last year.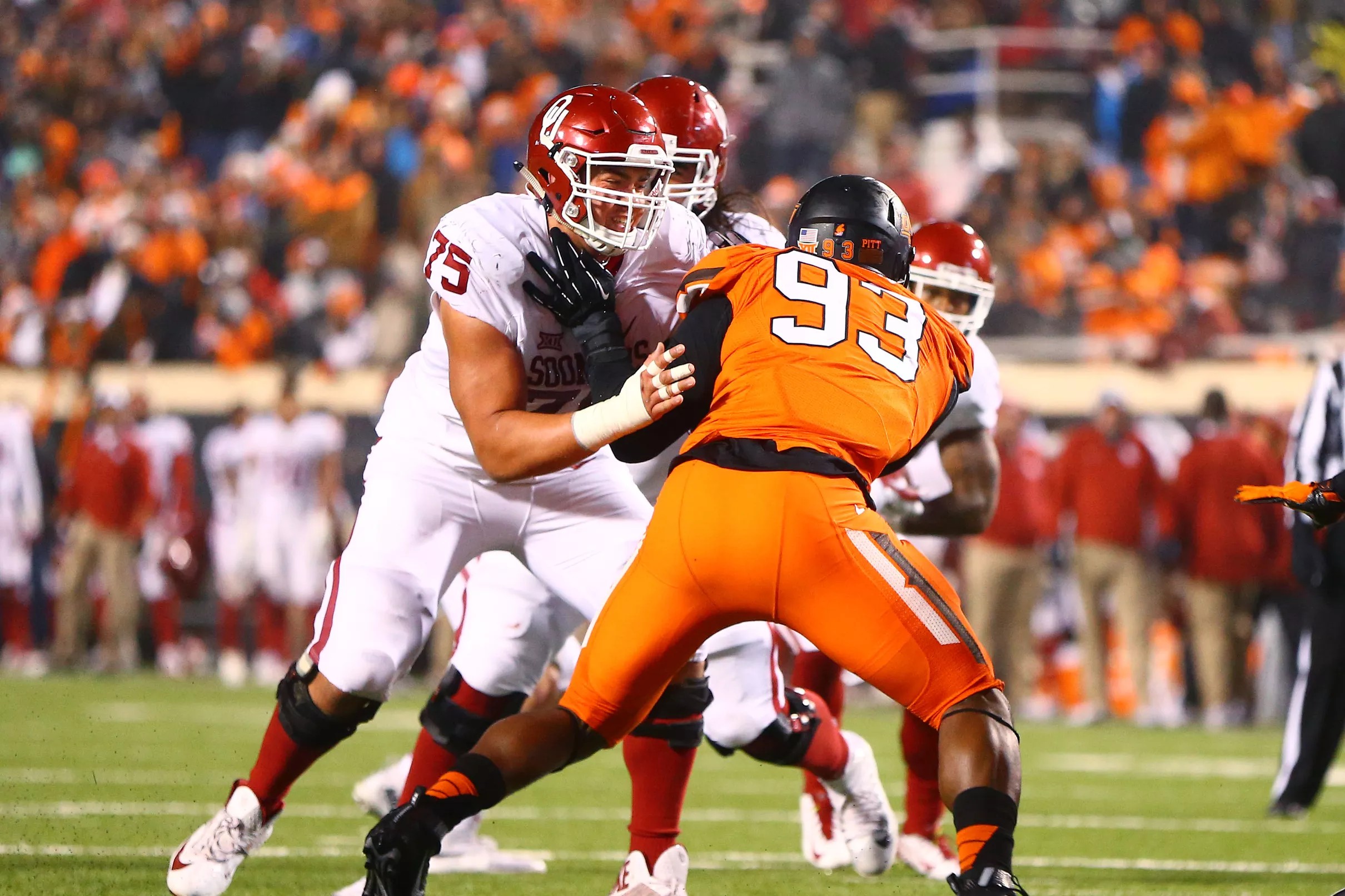 The Vikings spent two of their first four picks in the 2019 NFL Draft on offensive linemen, snagging center Garrett Bradbury in the first round and guard Dru Samia in the fourth round.
The duo lined up next to each other at the majority of practice Friday, with Bradbury at center and Samia to his right. Both players impressed in solo drills and as a tandem.
Bradbury showed quickness and athleticism off the ball, and moved well in practicing Minnesota's zone-blocking scheme. At one point, Vikings offensive line coach Rick Dennison exclaimed, 'That's it!' to Bradbury after the rookie finished off a block.Samia, meanwhile, showed power on many blocks and worked well with his fellow rookie.
Producing successive Heisman Trophy-winning quarterbacks and likely consecutive number one NFL draft picks is no easy feat, but it helps if you have one of the best offensive lines around.
In 2017, Baker Mayfield played behind an Oklahoma Sooners O-Line that featured Orlando Brown – a third-round selection by the Baltimore Ravens in 2018 – Dru Samia, Ben Powers and Bobby Evans en route to winning the Heisman and becoming the top pick for the Cleveland Browns in the 2018 NFL Draft.
Samia, Powers and Evans all returned last year when the Sooners allowed just 19 sacks, providing the foundation for Kyler Murray to win college football's highest individual honour and become the favourite for the first overall pick.Former Sooner offensive guards Dru Samia and Ben Powers were both taken in the NFL Draft's fourth round Sautrday. Samia went No. 114 overall to the Minnesota Vikings, while Powers was picked No. 123 by the Baltimore Ravens.
Dru Samia was a four-year starter for the Sooners, and he definitely peaked at the right time. Samia was named Big 12 Co-Offensive Lineman of the Year for his work in 2018, just a year after he struggled mightily vs. Georgia in the Rose Bowl. Similar to Powers, his floor is likely a solid backup, but he could become a starter in the right situation.Samia, Powers, Cody Ford, Bobby Evans and Creed Humphrey won the Joe Moore Award last fall for college football's best offensive line, helping OU become the first FBS team to produce a 4,000-yard passer, two 1,000-yard rushers and two 1,000-yard receivers in a season.
The Buffalo Bills moved up two spots in the second round to grab Ford, and Bobby Evans went No. 97 overall to the Los Angeles Rams.
Humphrey isn't draft eligible, but is projected as a top talent for 2020. "We'll hear another one in the first round next year — their center," ESPN analyst Todd McShay said during Saturday's broadcast.