The Vikings likely will get one starting linebacker back Sunday, but another could be sidelined.
Anthony Barr is expected to return against Green Bay at U.S. Bank Stadium after missing three games with a hamstring injury. However, Ben Gedeon missed his second straight day of practice Thursday because of a concussion suffered in Sunday's 25-20 loss at Chicago.
Also missing practice Thursday were safety Andrew Sendejo (groin), who has missed five straight games, tight end David Morgan, who sat out against the Bears, and wide receiver Chad Beebe (hamstring). Beebe had been limited in Wednesday's practice.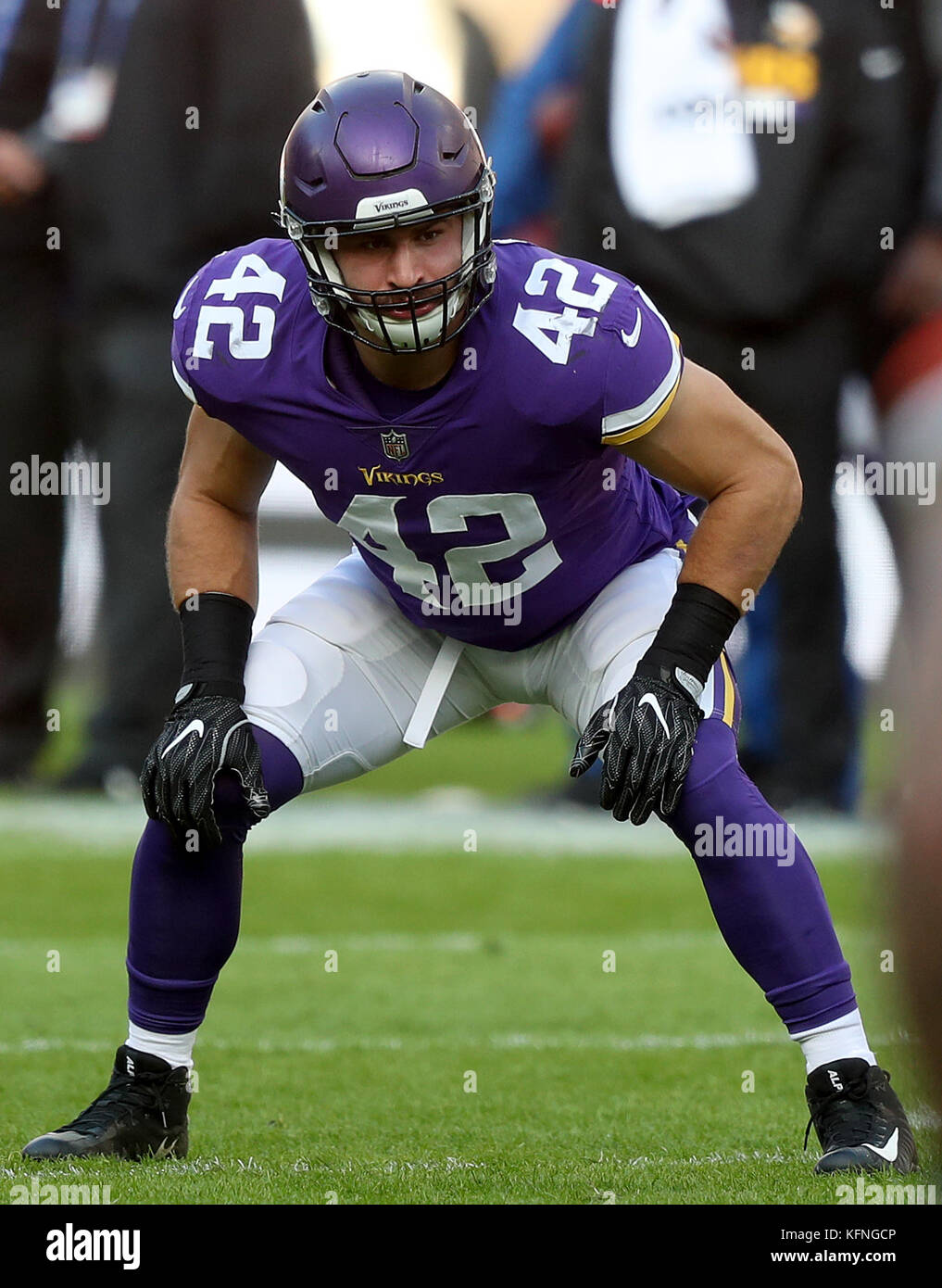 Barr was a full practice participant for the second straight day. He said on Monday he expects to return against the Packers.
Returning to practice as a full participant Thursday was defensive end Stephen Weatherly, who sat out Wednesday because of a shoulder injury and an issue not related to injury.
Listed as limited Thursday were wide receiver Adam Thielen (calf, low back) and guards Mike Remmers (low back) and Tom Compton (knee).
If Gedeon can't play against the Packers, he would be replaced by Eric Wilson. Wilson took over for Barr after he suffered a right hamstring injury Oct. 21 against the New York Jets.
"The fact David had kind of a unique skill set as a tight end that we were able to do some things with, that has affected us a little bit,'' said head coach Mike Zimmer.
Before being hurt Nov. 4 against Detroit, Morgan had played 30 percent of the snaps in the first nine games as Minnesota's second tight end. With Morgan out against Chicago, the Vikings rushed for just 22 yards, their second-lowest total of the season.
If Morgan can't play against the Packers, the Vikings could play a second straight game with just two tight ends. Against Chicago, starter Kyle Rudolph played 61 of the 67 offensive snaps and rookie Tyler Conklin was in for just nine snaps.
One option could be to elevate tight end Cole Hikutini from the practice squad. Hikutini got into four games last season as a San Francisco rookie.
Playing the MIKE means playing alongside fourth-year VIPER Khaleke Hudson, a star in his own right, that's shown his own ability in his time in Ann Arbor to move with impressive lateral speed. And now that spring practice has begun, Hudson is thinking the unthinkable thanks to what Ross is showing with the early returns in: Devin who?
"Josh – he's a good dude, he's a great athlete," Hudson said. "He's good sideline-to-sideline, he's a hard hitter. He reads offensive linemen very well, and he's where he has to be all the time.
"I feel like there won't be a drop off at all, actually. I feel he'll come in and do the same thing Devin Bush was doing – maybe even better."
Certainly, spring hype is one thing — production is another. But Bush garnered similar hype as he was being groomed to replace Ben Gedeon, and Ross has often drawn comparison's to Bush's style of hard-hitting.
We will see in person how warranted the hype is in a few weeks, with an open practice having recently been announced for April 6 at The Big House, one week before the annual Spring Game on April 13, also to be held at Michigan Stadium.
Second-year linebacker Ben Gedeon played a career-high 44 percent of the defensive snaps Sunday in the Vikings' 24-16 victory over San Francisco. He is starting next to Anthony Barr and Eric Kendricks for the second year in a row, but as a rookie Gedeon played only about 25 percent of the time on defense.
A fourth-round pick out of Michigan in 2017, Gedeon knew there was going to be a chance for more playing time this season, and he ran with that in the lead up to the season opener. Against the 49ers, he was one of five players who had four tackles on defense, and he also had a special teams tackle.
"I've learned a lot, that experience is super important, and I'm hoping to build on it and get better this year," said Gedeon, who had three tackles in last December's 16-0 victory at Green Bay. "Just how to prepare for games, technical stuff, fundamentals and learning from all of the older guys in the position group, as well."
Gedeon said one of his biggest hurdles coming into the NFL last year was adjusting to the pace of play, especially on pass coverage. That will be a huge challenge this week if Aaron Rodgers plays this week, no matter if his mobility is limited or not.
Gedeon, 23, said that adjustment was a big focus for him over the offseason.
"That is something I was working on pretty hard. Play faster, know the defense better so I'm going to be able to play faster this year," he said. "I wanted to go in there, work as hard as I could and wherever I could help the team is where I wanted to be."
Gedeon said linebackers coach Adam Zimmer helped him with another huge learning curve.
"The schemes, everything we do here defensively. It always takes a little bit of time to feel comfortable in the schemes," Gedeon said. "You can play fast after you learn all the schemes."
Gophers football coach P.J. Fleck said having junior receiver Tyler Johnson back healthy after he missed the final two games of 2017 is a big boost to the offense.
Late in the 24-17 victory over Fresno State, Johnson made an incredible catch off a throw from Zach Annex­stad, who had scrambled all over to pull off the play. It was as good of an offensive play as the team has had in years.
Fleck said that shows how impressive Johnson can be, but he also expects a lot out of one of his offensive leaders.
"I think Ty has got to continue to be more consistent, and he will tell you the same thing, but he makes big-time plays in big-time situations and that's what great players do," Fleck said. "We put ourselves in some tough positions with a few drops and a fumble [Johnson's third-quarter fumble led to Fresno State's first score]. However he continues to keep his oar in the water and never gave up."
Johnson ranks fifth in the Big Ten in both receptions per game (5.5) and receiving yards per game (75.0).
Interestingly, Johnson, who averaged 17.2 points as a senior playing basketball for Minneapolis North, said a few close family members helped him to decide on football in college.
"It was actually a tough decision, you know I think I talked to my little brother or my mom or somebody like that and basically it just came down to the opportunity to play at a high level and being the first one in my family to do that," Johnson said.